Thank you for considering Summer Camps at Shaver's Creek Environmental Center. We offer a wide range of camps each summer for kids ages 4–15. From Wee Wonderers to Rock'n River Adventures, we have a camp to engage and excite your young outdoor explorer. At Shaver's Creek, we've been inspiring discovery since 1976!
2014 Summer Day Camps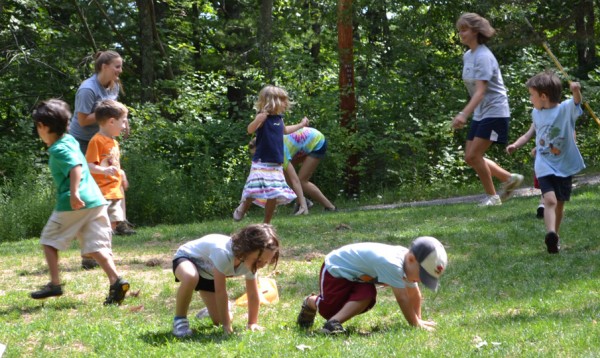 Wee Wonderers Camp
Ages: 4–5 (preschool/kindergarten)
Cost: $75 nonmembers/$60 members
Date: July 1–3
This program is for preschoolers and kindergartners. We'll wander the trails in search of special places and animal friends. As we share stories and art, parents have the option of enjoying the center or a nearby trail. The camp concludes with a parade and ice cream celebration.
—————————————————————————————————————


Discovery and Explorer Camps
The Discovery and Explorer campers will spend each day in a group of about 12 children, using Shaver's Creek's woods, streams, and meadows as a backdrop for investigating nature awareness, natural cycles, and the interrelationships of living things. Each year campers will focus on a new theme for the week, such as reptiles, birds, or plant cycles. On Thursday the campers should bring old shoes for stream exploration. An experienced Shaver's Creek staff member and a leader-in-training will guide each group.
The Discovery and Explorer campers and their families are invited to participate in the Friday evening picnic and camp-out. Enjoy ice cream, campfire performances, a night walk, and a Saturday morning pancake breakfast.
Discovery Camp Ages: 6–8, entering first through third grades
Explorer Camp Ages: 9–11, entering fourth through sixth grades
Discovery and Explorer Four-Day Camp Sessions
Cost: $150 nonmembers/$120 members
Dates (Choose one):
June 17–20
June 24–27
July 22–25
August 5–8
The four-day sessions are held from Tuesday through Friday:
Tuesday–Thursday, 9:00 a.m.–3:00 p.m.
Friday, 9:00 a.m.–5:00 p.m.
Discovery and Explorer Five-Day Camp Sessions
Cost: $190 nonmembers/$150 members
Dates (Choose one):
July 14–18
July 28–August 1
The five-day sessions are held from Monday through Friday:
Monday–Thursday, 9:00 a.m.–4:00 p.m.
Friday, 9:00 a.m.–5:00 p.m.
Transportation option for these five-day sessions only:
For an additional fee, bus transportation will be provided from Penn State student lot 82, accessible from Park Avenue. Drop-off will be from 8:00 to 8:30 a.m., and pickup will be from 4:30 to 5:00 p.m.
—————————————————————————————————————

Rock'n River Adventures
Ages: 12–15
Cost: $380 nonmembers/$330 members
Dates (Choose one):
June 16–20
June 23–27
July 7–11
July 14–18
July 21–25
Tell your friends about this great chance to participate in adventure activities this summer! Each day we will be in a different spot in the Centre Region — catching the currents as we canoe on rivers, caving through our stellar limestone formations, rock climbing on sandstone crags, or exploring our cool, shaded forests on mountain bikes or on foot. Come ready for action, rain or shine. We will meet each morning at the picnic area on the corner of Park Avenue and University Drive. There is no additional fee for transportation for Rock'n River Adventures.
Rock'n River Adventures is held Monday through Friday, 9:00 a.m.–4:00 p.m.
—————————————————————————————————————


Wild about Art
Ages: 12–14
Cost: $150 nonmembers/$120 members
Date: June 30–July 3, 9:00 a.m.–3:00 p.m.
This new camp replaces and expands on the tradition of longtime favorite Raptor Camp. Inspired by the birds of prey and other resident animals at Shaver's Creek and the trails surrounding the center, we will spend time exploring the natural world and observing the details hidden in what seems to be ordinary. Then we will develop various types of artwork  based on our discoveries. The week will end with a gallery walk for families and friends of the campers.
—————————————————————————————————————


Aquatic Adventures
Ages: 12–14
Cost: $150 nonmembers/$120 members
Date: July 22–25
What is a watershed, and why should we care? Join us as we explore the Juniata River watershed, investigate streams and lakes, go canoeing, and study various ecosystems. Be prepared to get wet and have fun in the process!
—————————————————————————————————————


Leaders-in-Training (LIT)
Ages: 14–17
Cost: No cost for accepted applicants
Assist with camps for ages 4–11
Improve your leadership skills by assisting staff members in leading day camp activities and contributing to the magic of discovery. If you are interested in participating in our LIT program, please check back after February 1, 2014 to apply online. This is NOT a full summer commitment—LIT's typically participate in one or more selected weeks of camp per summer based on availability. For more information, email LIT Coordinator Matt Marsden at mgm181(at)psu.edu.