Shaver's Creek hosts many local musicians throughout the year for outdoor concerts, evenings of music, and festivals on our covered timber-frame stage in the woods. Check our Calendar of Events to see what might be coming up soon!
Shaver's Creek Music Festival
The Shaver's Creek Music Festival started in 2010 as a fundraiser to improve our campfire amphitheater and build a timber-frame stage, which doubles as a covered teaching space for our educational programs. The event has continued as an annual gathering of music lovers who come to hear lively local musicians perform, surrounded by our beautiful forest setting.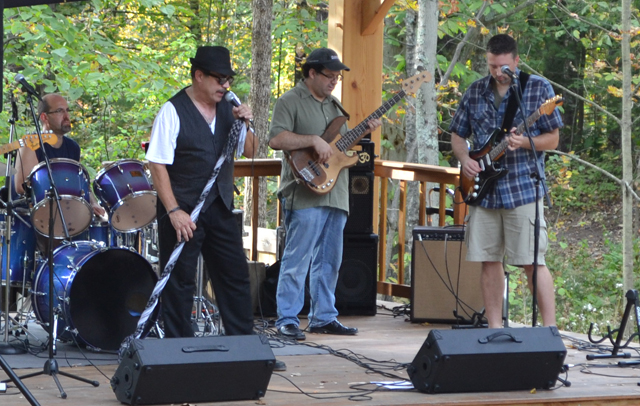 Bands that have taken the Music Festival stage in the past include Pure Cane Sugar, Wissahickon Chicken Shack, Dreams and Bones, Poor Folk, Skytop Blues, John Cunningham & Friends, Tussey Mountain Moonshiners, Tolins Bluegrass Revue, Ted & the Hi-Fi's, and more!
The Music Festival is usually held in late summer or early fall, but check our Calendar of Events for the most up-to-date event details. See the sidebar to the right for details on this year's festival. You can also call 814-863-2000 for more information or to order tickets prior to the event.
The 2012 Music Festival is sponsored by Shaver's Creek members, the Arts Endowment for Shaver's Creek, HappyValley.com, ClearWater Conservancy, and Appalachian Outdoors.
Shaver's Creek Summer Concert Series
Summer evenings are a great time to hear local music at Shaver's Creek. Check our Calendar of Events for periodic evenings of music throughout the summer months.
Email ShaversCreek@outreach.psu.edu if you have any questions about music events at Shaver's Creek, or have a suggestion for a band you'd like to see us schedule.